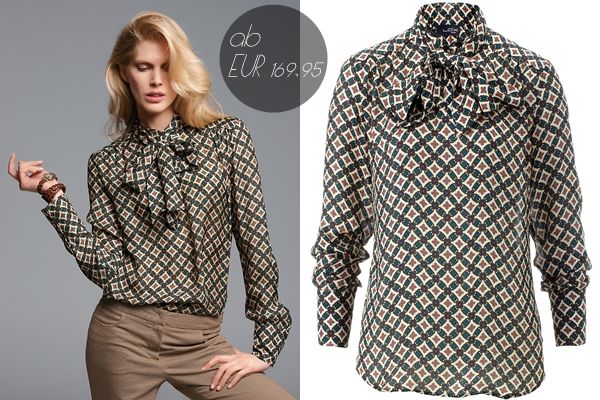 Bluse mit angesagter Schlaufe aus reiner Seide LINK
DE:
In diesem Post geht es mir um das Thema
"Investiere in eine gute Bluse"
. Ich beobachte immer und immer mehr wie beliebt und normal es wird, Blusen zu tragen. In jeder Kollektion gibt es sie.
Umwerfende Blusen, die man einfach jedes Jahr wieder tragen kann und auf zig verschiedene Wege stylen könnte
. Warum also nicht mal in eine hochwertige, langlebige Bluse investieren? Ich spiele mit diesem Gedanken und habe mich daher mal auf die Suche begeben. Unter anderem bin ich dabei auf
Peterhahn.at
gestoßen. Auf dem ersten Blick sah es nicht so aus, als wäre der Shop wirklich mein Style. Peter Hahn ist sehr klassisch und elegant. Überraschenderweise musste ich nach genauerem Hinschauen feststellen, dass der Trend hier und da aber auch sehr modern ist und somit genauso gut für den jüngeren Style geeignet ist. Auf dem zweiten Blick, zog folglich dann doch das eine oder andere Teil meine volle Aufmerksamkeit auf sich. Diese Blusen hier würde ich zu 100 % lieben auf meiner Haut zu spüren.
Zu teuer? Aber dafür bekomme ich doch auch 100 % Seide.
Wann kann ich das behaupten, wenn ich bei den herkömmlichen Shops wie Mango oder Bershka einkaufe? Ich bin süchtig nach diesen Shops, versteht mich nicht falsch. Ich finde allerdings, man sollte einfach mal in ein Teil investieren, dass man jahrelang tragen kann und fantastisch aussieht. Wir können ruhig ehrlich sein, Mädels. Es fühlt sich insgeheim doch toll an, etwas Teures zu tragen. ;-) Vielleicht eine gute Idee für ein Weihnachtsgeschenk?
Stylingtipp:
Bluse kannst du immer leger zur Jeans tragen. Der elegante (Office) Look geht mit einem Bleistiftrock oder zur Karottenhose. Ganz up-to-date ist die Kombination mit einem Skaterrock oder Maxirock sowie zur Lederleggings / Lederhose. Fazit: Es geht so gut wie alles!
Bluse mit Stehkragen aus 55 % Seide und 45 % Baumwolle LINK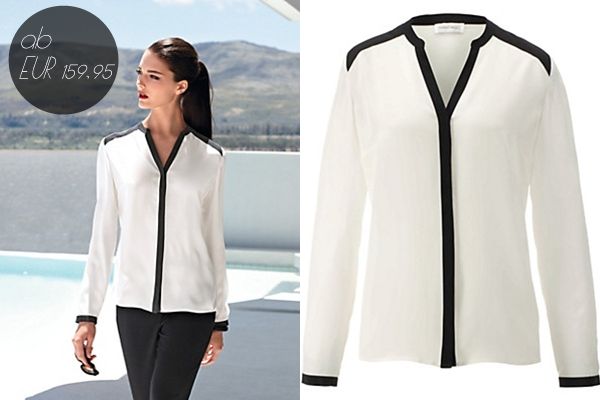 Bluse aus 100 % Seide

LINK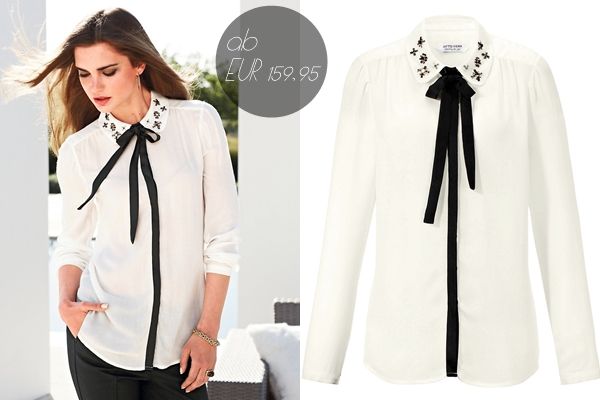 Absolute Empfehlung: Bluse mit Nietenkragen und minimalistischem Schwarz-Weiß-Look dank der Schlaufe LINK
EN:
In this post I want to talk about the topic 'Invest in a good blouse'. I've been watching again and again how popular and common it's become to wear blouses. As a girl, a teenager, a young adult or a lady. Those are in any collection. Gorgeous blouses that you can wear every year again and style in plenty of different ways. So why not investing in a high-class, long-lasting one? I toy with the idea of doing exactly that and have even already started my investigation. Among others, I came across

Peterhahn.at

. At first sight, I didn't really think it fit my style so well but then I had a closer look and started to pretty much fell for some of their items. Peter Hahn is really classy and fancy but now and then it's also very trendy. It's a perfect mix for blouses that we girls seek for. Too expensive? But in return we get 100 % silk. When am I being able to say that while shopping at those common stores like Mango and Bershka? Don't get that wrong, I'm addicted to purchasing items of those brands. However, I also believe in investing in an upmarket item of clothing you can wear for years and keeps looking awesome. Let's be honest, girls! It's a great feeling to wear something expensive knowing you wouldn't bump into a girl that got the same piece so easily. ;-) Might be a good idea for Christmas?
Styling advice:
The casual look is done super easily. Just combine it to jeans. The fancy and also office look goes with pencil skirt or carrot pants. To be up-to-date and look elegant but youthful at the same time you can wear your blouse in combination to a skater or maxi skirt as well as to leather pants. Conclusion: Blouses go to pretty much everything.
Jersey-Bluse mit 3/4 Arm und Schößchen LINK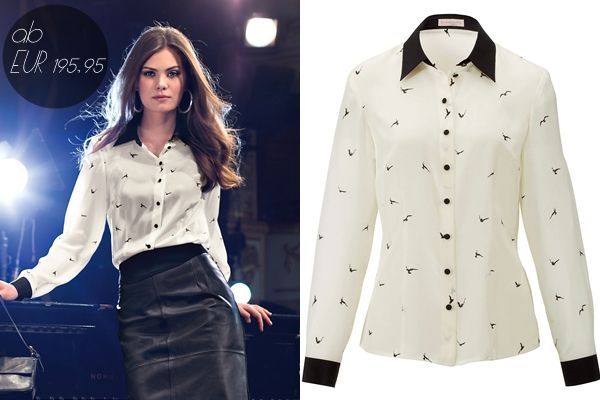 Bluse aus 100 % Seide und trendigem Schwalben Print (ich liebe sie!)

LINK