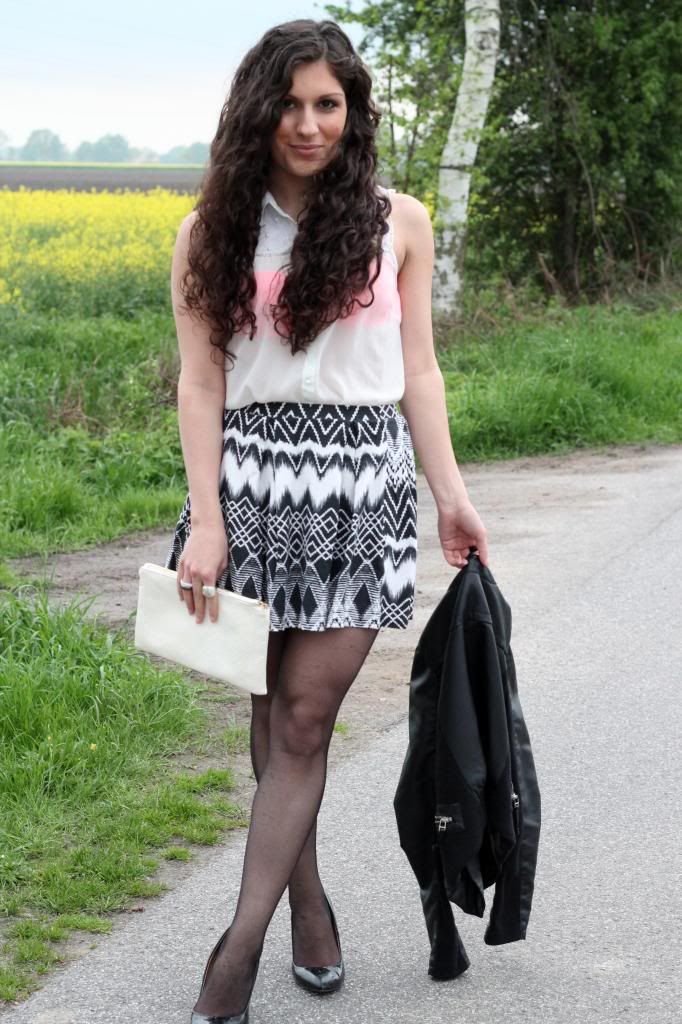 Ringe/rings + Kette/necklace + Tasche/bag, Takko fashion - Bluse/blouse + Jacke/jacket, Vero Moda - Rock/skirt, ASOS - High Heels, Mango
Ich vermisse die Sonne. :-( Letztes Wochenende wollte mein "Dutch Boyfriend" und ich eigentlich zu einem Festival in Holland gehen. Aber nein! Wegen dem Regen auf Ende August verschoben.

Seit zwei Wochen habe ich Outfits in meinem Kopf, die im leuchtenden Sonnenschein einfach besser zur Geltung kommen. Ich bin ein wenig erschrocken, wie blass ich auf meinen Bildern zur Zeit aussehe. Aber die Hoffnung stirbt zuletzt ... nicht wahr? Mit diesem Outfit habe ich wohl einen guten Kompromiss zwischen Sommeroutfit und das-Wetter-macht-was-es-will,-sogar-Ende-Mai-Outfit. Der Rock trägt ein wenig auf. Ich find ihn aber trotzdem toll. Das Muster gibt dem Outfit wieder etwas Besonderes.

English:
I miss the sun so much. :-( Last weekend my "Dutch Boyfriend" and I were actually planning to go to a festival in Holland. But due to rain they postponed it to the end of August. Dumb rain ...

For two weeks I've been having outfits in my head that are shown to advantage way better in bright sunshine. I'm a bit frightened how pale I look at my pictures at the moment. But hope dies last ... right? With this outfit, I have probably found a good compromise between summer outfit and the weather-makes-what-it-wants-even-end-May-outfit. The skirt doesn't really flatter my shape but I still find it great. The pattern gives the outfit something special.